Monthly Star Parties
Star parties are nighttime group telescopic observing sessions, and they are a primary reason why astronomy enthusiasts join RAC. However, star parties are more than just a time for RAC members to view the night sky. They are also opportunities for the public to learn about astronomy, telescopes, and how to observe.
The table below summarizes this year's RAC star party dates. RAC public star parties, shown in bold black text, are held at prominent public locations such as Caledon Natural Area. Civic organizations, educators, and scout leaders are invited to contact RAC's Outreach Coordinator or Scouting Coordinator in advance if they wish to bring a group to one of the public star parties hosted at Caledon Natural Area. RAC members only events at Belmont or other locations are denoted by non-bold black and bold red text.
Click on the Schedule link above the table to download a printable PDF chart of dates, locations and sky features. (A free copy of Adobe Reader may be downloaded here.) Locations and directions are available later on this page.
2013 RAC Star Party Schedule (Printable PDF)
5 Jan Caledon

2 Feb Caledon

9 Mar † Caledon

6 Apr‡ Caledon

4 May Caledon

1 Jun Caledon

29 Jun Caledon

10 Aug Caledon

31 Aug Caledon

28 Sep Caledon

26 Oct
Caledon

30 Nov

Caledon

28 Dec

Caledon
| | |
| --- | --- |
| † Messier Marathon | ‡ Messier Marathon backup |
The monthly star party is held one Saturday night out of every lunar cycle -- i.e. about once per month. Generally, these parties are scheduled near the new moon to ensure the darkest skies possible.
Observing begins as soon as it is dark enough to see stars and planets, generally half an hour to an hour after sunset. Visitors arriving at or after dusk should enter the telescope field using only parking lights since bright lights reverse visual night adaptation of those already observing. People bringing telescopes should arrive before sunset to allow time for equipment setup without the need for bright lights. If you need help with your new telescope allow extra time by arriving early -- club members will be busy setting up their own scopes and will need the extra time in order to help newcomers.
Astronomical Seeing
For more on what to expect when attending a star party, check out our Star Party Etiquette page. Looking for something to observe? Visit Observing the Night Sky to view resources for planning your observing session. Once each year RAC holds a special all-night star party called a Messier Marathon, see next section below. For special circumstances, RAC can arrange a public outreach event for your organization or scout group.
Star parties require clear skies and are dependent on the weather. If the forecast is for cloudy skies the event will be cancelled, no exceptions. We make a decision based on the forecast -- and if by chance the clouds do disappear in the evening the event remains cancelled nonetheless. An up-to-date announcement will be posted in the upper right corner of the RAC home page.
RAC club star parties are held at a number of places. Directions to these and other sites are given in the Locations section. The most prominent of these are Caledon Natural Area in King George and Westmoreland State Park in Westmoreland County.
All events listed here are free and open to the public. RAC also offers star parties and other programs for other schools, organizations, and events that may be open only to people involved in those events. In addition, RAC members have several opportunities for club-only astronomy events. If weather forces us to cancel a star party, we have a backup date at a member's home observatory. Events at private homes are open to members only. We distribute information about these events via our monthly meetings and mailing list to all club members.
What to Expect
First time guests come to star parties not knowing quite what to expect. They hope for great views of the heavens, but they're often not sure when to show up, what the format of the star party is, how to approach the astronomers, what is expected of them as guests, etc. On that last point, we have a web page, called Star Party Etiquette, that lays out the rules of the road for astronomers and guests alike. It's mostly just common sense and courtesy, designed to ensure that everyone has a safe and rewarding night, and we recommend that first-timers glance through it after reading this introduction. Having said that, here is an informal timeline of a typical observing session.
Astronomers with lots of gear may arrive up to an hour before sunset to set up their scopes, particularly those with computer controllers and those who plan to do astrophotography. Astronomers with less gear trickle in later, and some arrive after sunset if their setup is minimal.

Some guests may arrive by sunset, but many prefer to arrive a half hour after sunset. However, it's best not to wait until the sky is completely dark because car headlights interfere with everyone's night vision, and also it's difficult and hazardous to find one's way in the dark. While astronomers are setting up their gear is a great time to ask about the telescopes and mounts, particularly if a guest is interested in buying a telescope.

After sunset, it takes over an hour for the sky to darken enough for deep sky observing. The Moon and planets may be viewed sooner. However, astronomers with computerized telescopes have one critical step yet to complete. They must align their mounts to the first bright stars so their scopes can quickly locate night sky objects. This process takes several minutes and a bit of concentration. Luckily, not everyone brings such scopes, so guests can usually find a more talkative astronomer!

Half an hour or more after sunset, one of the astronomers may give a short welcome talk. This will introduce astronomy as it is practiced by amateurs. It also serves to remind guests of the limitations of amateur gear, important in calibrating expectations: what one sees with amateur scopes is by no means the same as what Hubble and major observatories reveal.

Once the sky is dark, each astronomer will begin his or her observing program. Guests are encouraged to wander from scope to scope, looking though each telescope, chatting with the astronomer, and then moving on. By the time the guest has cycled back to the original scope it is likely that something else will be in view. Feel free to ask questions; most astronomers love to talk about their hobby and the night sky!
That's about it. Our Star Party Etiquette page provides detail on things like parking, dressing warmly, night vision and red flashlights, why we don't allow aerosol bug sprays and such. When you become tired, cold, hungry, sleepy or have just plain seen enough, let someone know you are leaving. Try to exit without shining too much light on the telescope field because direct exposure to auto headlights will blast the night vision of everyone who remains!
And thanks for coming out and sharing the night sky with us!
Messier Marathon
Each Spring RAC hosts an all-night Messier Marathon for our members at Caledon Natural Area. A Messier Marathon is a one-night star party designed to observe most, if not all of the objects in Charles Messier's famous catalog of deep sky objects. Messier was a renowned French astronomer, comet sleuth and member of the French Academy of Sciences in the late 1700s. During his career he compiled a list of 110 deep sky objects visible in small telescopes, cataloging them so that in future sweeps he would not mistake them for comets.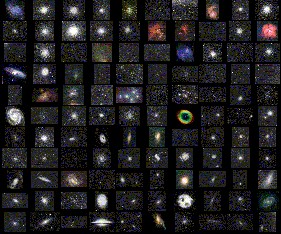 Messier worked with early, primitive equipment. Today, most amateurs have access to telescopes equal to or better than Messier's. Thus, Messier objects are relatively easy to observe and make great targets for beginners and experienced observers alike.
In late March and early April most Messier objects are visible at our latitude during a single night, making those months an ideal time to conduct a Marathon. The date is posted in our downloadable Star Party Schedule, and a month prior to the event notification is posted in the RAC News section near the top of the RAC home page. A Messier Marathon data sheet, useful for recording one's progress through the Messier catalog, is posted in the the Observer Data Sheets Section of the Documents page. Or, you can download a 27-page set of Messier Marathon Charts from the Astronomy Club of Tulsa. As with all star parties, cloudy skies will cancel the event.
Outreach Star Parties
In addition to our regularly scheduled open-to-the-public monthly star parties, RAC also conducts specially arranged public outreach events for schools, parks and civic groups, and astronomy merit badge teaching clinics for scout groups. Outreach events must be arranged in advance through RAC's President. Scouting events should be arranged through RAC Scouting Coordinator Glenn Holliday. Non-observing school lectures should be arranged via School Programs Coordinator David Abbou. See our Outreach and Scouting pages for details.

Other Interesting Pages
Event Locations & Directions
Caledon Natural Area is located on Rt. 218, King George, VA. Map. Park Brochure & Map.
Street address is 11617 Caledon Road King George, VA. A GPS that knows addresses will take you to the gate.
Information phone number is 540-663-3861.
Located along the Potomac River northwest of the Hwy 301 bridge, near King George, Virginia.
Take I-95 exit 130, Rt. 3 east thru Fredericksburg, east on Rt. 218 for about 20 miles, Area on left.
Or to keep on bigger roads, take Rt. 3 east, left on Rt. 206 at King George High School, left on Rt. 218 to Area.
From Maryland, take 301 south, cross the Potomac, right on Rt. 206, then right on Rt. 218 to Area.

Last club member to leave is responsible for securing the area.
---
Westmoreland State Park is located in Westmoreland County. Map. Park Brochure & Map.
Street address is 1650 State Park Road, Montross, Va. 22520-9717. A GPS that knows addresses will take you right to the gate.
Information phone number is 804-493-8821.
Located along the Potomac River six miles northwest of Montross just off Route 3 East.
From Fredericksburg (I-95), take Rt. 3 east, go about 40 miles to the park's entrance, turning left onto Rt. 347.
From Tappahannock, take U.S. 360 East to Warsaw. Turn left onto Rt. 3 west at the third stop light. Stay on this road until about six miles past Montross. Turn right into the park's entrance on Rt. 347..
From Richmond, take U.S. 360 East, then follow Tappahannock directions.
From Tidewater, take 17 north to Tappahannock. At the second light, past Lowrey's Restaurant, turn right onto 360 east, then follow Tappahannock directions.
---
Lake Anna State Park is located in Spotsylvania County. Map. Park Brochure & Map.
---
Stratford Hall is the historic home of Revolutionary War hero Light Horse Harry Lee and the birthplace of Civil War General Robert E Lee. It is located just off Route 3, near Westmoreland State Park in Westmoreland County.
Information phone number is 804-493-8038.
Stratford Hall is located approximately 40 miles and one hour south-east of Fredericksburg, just past Westmoreland State Park.Take Route 3 past Westmoreland and turn left on Route 214, Stratford Hall Road. Proceed to the Oval in front of the Great House. RAC members have permission to park and set up their telescopes on the Oval for star parties. RAC star parties at Stratford Hall are by invitation of Stratford Hall and are open to the public.
Click for a map of the Stratford Hall Grounds and an aerial overview of the Great House and the Oval.
---
Motts Run Reservoir is operated by Fredericksburg Parks and Recreation and is located west of town on River Road.
Information phone number is 540-372-1086.
Directions: Route 3 west from Fredericksburg. Approx. 1 mile west of I-95, turn RIGHT onto Bragg Road (at Giant food store). Continue 1 mile. Turn LEFT onto River Road. Park is 2.4 miles on LEFT. (You will wind along the Rappahannock River, past Clore Bros. Canoe Outfitters, then up steep hill. Park is another ½ mi. past crest of hill.) Follow gravel road into park.
---
Old Mill Park is also operated by Fredericksburg Parks and Recreation, and it is located along the Rappahannock River on the edge of historic Old Town at 2216 Caroline Street, Fredericksburg, VA.
Information phone number is 540-372-1086.
Take Sophia Street north from William Street. Sophia ends in a left turn at Pitt Street. Follow Pitt one block west, then turn right on Caroline Street. Follow Caroline 3 blocks, then watch for the park entrance on the right.
---

Old Maury School, 900 Barton Street #111 in Fredericksburg, is a historic building that once held Fredericksburg's first high school. It is located just southwest of downtown Fredericksburg, at the corner of Barton Street and George Street. This is one block off William Street. Enter from Barton Street. The back side of the school is Maury Stadium, which is still used as the football stadium for James Monroe High School. There is a parking lot off Barton Street at the front of the school.

For meetings in the Central Rappahannock Heritage Center Meeting Room, don't try to enter the main doors of the old school. Go to the right side of the building and down the stairs to the lower level. Enter the door at the bottom of the stairs. The meeting room is the first room you come to.
From the west, take William Street (Route 3 business east) towards downtown Fredericksburg. Turn right on Barton Street. William and Barton are both one way at this point.
From downtown, take George Street away from downtown. George Street ends at Barton Street. George and Barton are both one way at this point.
---

Skyline Drive is located in Shenandoah National Park in the Blue Ridge Mountains of Virginia. Two sites are used, Big Meadows at mile marker 51 and the Milam Gap parking area, about 1.5 miles south of Big Meadows. For small gatherings, Milam Gap is preferred due to easy access and sheltering from the wind. Lodging, restuarants and a campground are available. Maps.